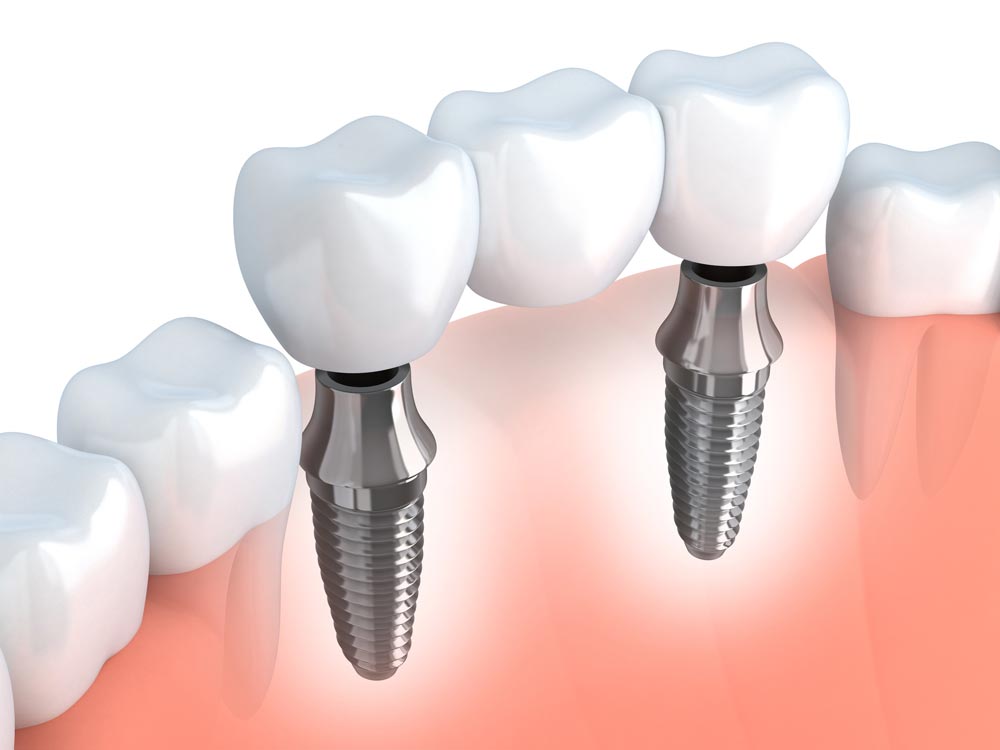 1 – Qu'est ce que c'est ?
L'implant dentaire est une racine artificielle qui s'apparente à une cheville, le plus souvent en titane, placée dans l'os afin de remplacer une ou plusieurs dents manquantes.
Dans de bonnes conditions, l'implant s'installe progressivement dans l'os des maxillaires : Cela s'appelle l'ostéointégration.
Sur cette racine artificielle, le chirurgien-dentiste pourra reconstruire une couronne après un délai de quelques semaines à plusieurs mois en fonction du type de l'implant et de la qualité de l'os.
What is it ?
The dental implant is an artificial root like an anchor, often in titanium, placed in the bone to replace one or several missing teeth. In good conditions, the implant is progressively integrated in the maxillary bone : this is called the osseointegration.
On this artificial root, the dental surgeon may set a crown after a few weeks or months according to the implant type and bone quality.
2 – Qui peut me prendre en charge ?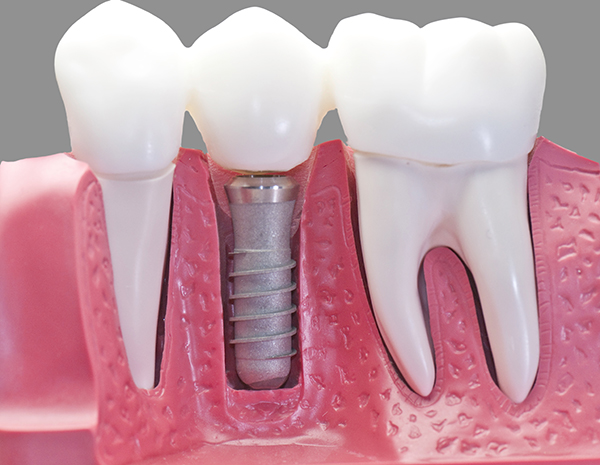 Je peux faire appel à un chirurgien-dentiste, un stomatologiste ou un chirurgien maxillo-facial. Mon dentiste traitant, s'il n'en pose pas lui même, pourra me conseiller un confrère. De nombreux centres de santé pratiquent cette chirurgie. Un premier bilan radiographique ( panoramique ) sera réalisé associé souvent d'une imagerie en 3D ( Scanner ), afin d'évaluer la qualité et la quantité d'os de la zone choisie pour déterminer l'implant dentaire qui sera posé.
Who can treat me ?
I can ask a dental surgeon, a stomatologist or a maxillofacial surgeon. My practitioner, if he doesn't place implants himself, will be able to advise me a colleague. Numerous dental care centers perform this surgery. A first radiographic check up ( OPG ) will be done, often in association with a 3D radiography ( CT scan ), to assess the bone quality and quantity in the chosen site, in order to specify the implant that will be placed.
3 – En quoi consiste l'intervention chirurgicale ?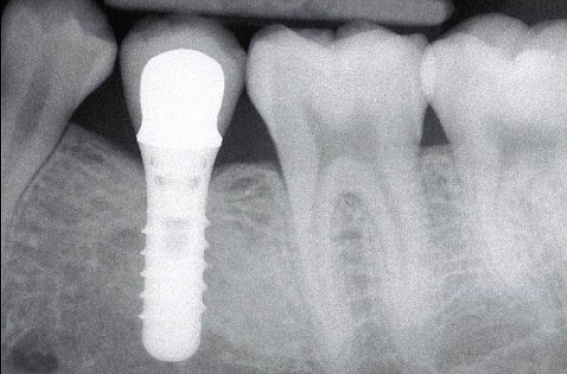 L'intervention chirurgicale est réalisée sous anesthésie locale au cabinet du praticien s'il est équipé pour ce type de chirurgie ou dans un bloc opératoire. Un forage permettra de préparer l'emplacement dédié à l'implant dans l'os. Ce geste n'est généralement pas plus contraignant ni plus douloureux qu'une extraction dentaire.
What's the principle of the surgery ?
The surgery is performed with local anaesthesia at the practitioner's dental office if he is equipped for this type of surgery, or in operating theatre. A drilling will permit to prepare the implant site in the bone. This is generally neither more restricting no more painful than a tooth extraction.
4 – Des raisons médicales peuvent-elles empêcher la pose d'un implant dentaire ?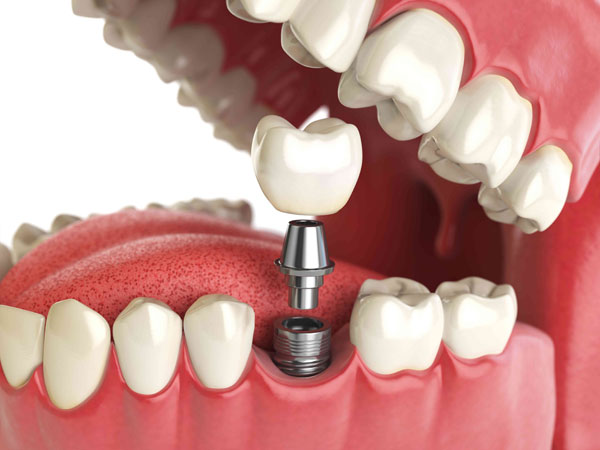 Oui, les pathologies, à long terme, notamment, cardiaques ou diabétiques, peuvent contre-indiquer la mise en place d'implants dentaires. D'autre part, les antécédents de radiothérapie fragilisent l'os et empêchent de recevoir des implants dentaires. Aussi, les maladies auto-immunes, comme la sclérose en plaque, ne permettent généralement pas, de bénéficier de cette chirurgie. Certaines maladies peuvent momentanément contre-indiquer l'intervention, comme les pathologies traitées par la prise d'anticoagulants ou les épisodes dépressifs majeurs. Pour autant, il existe que très peu de contre-indications absolues et il est donc primordial de signaler tous les antécédents médicaux et traitements en cours ou anciens.
Is there any medical reason that may prevent from placing a dental implant ?
Yes, long-term pathologies, particularly cardiac or diabetic ones, can contraindicate the placement of dental implants. Furthermore, radiotherapy background makes the bone weaker and contraindicates the dental implant. Also, autoimmune diseases, like multiple sclerosis often don't allow, to perfom this surgery. Some diseases can temporary contraindicate the surgery, like pathologies treated with anticoagulant or major nervous breakdown. But, there are only very few absolute contraindications and so it's essential to point out all medical background and old or current treatments.
5 – Les facteurs locaux à prendre en compte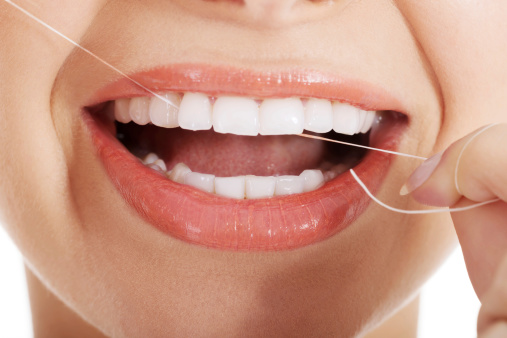 Une bonne hygiène bucco-dentaire, un suivi régulier et un état gingival sain sont primordiaux. Une visite annuelle chez le dentiste sera nécessaire pour assurer, à travers un contrôle constant, la pérennité des implants en bouche.
Les implants sont des racines de remplacement comparables à vos vraies racines, vous pourrez manger, boire et sourire naturellement.
L'alliance de l'esthétique et du fonctionnel vous redonneront envie de « croquer » la vie à pleines dents.
Local factors to consider
A good oral hygiene, a constant follow-up and a healthy gingival state are essential. An annual visit to your dental practitioner will be useful to ensure, with a constant check-up the lasting of implants in your mouth.
Implants are replacement roots like your real roots, you'll be able to naturally eat, drink and smile.
Alliance of esthetic and functionnal will give you the desire to make the most of life.
Remplacement d'une seule dent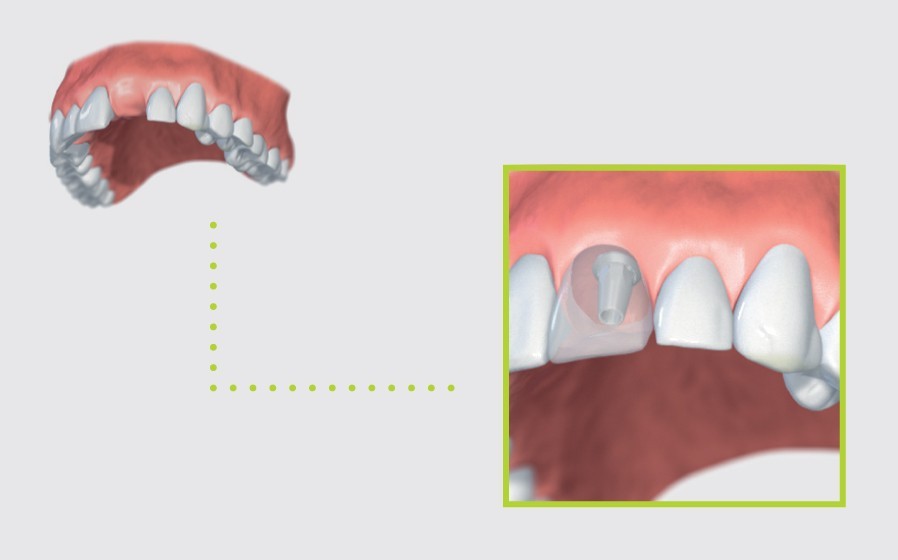 L'implant dentaire est la solution idéale pour remplacer une dent, et permet d'obtenir un résultat indécelable et très esthétique, sans pour autant abîmer les dents adjacentes.
Single tooth remplacement
The dental implant is the ideal solution to replace one tooth, and it allows to obtain an undetectable and esthetic result, without damaging the adjacent teeth.
Remplacement de plusieurs dents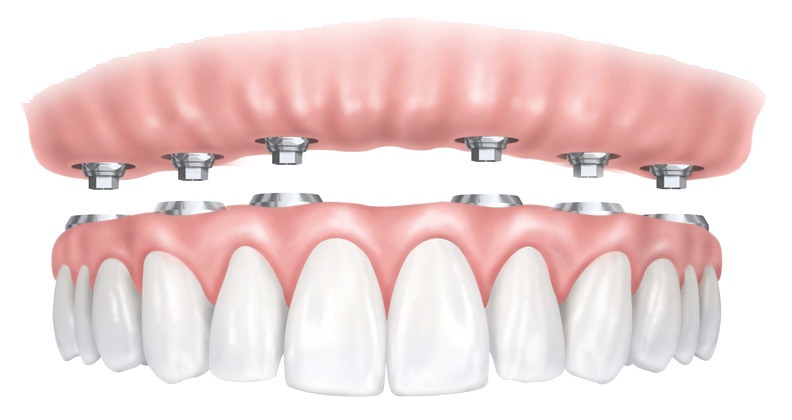 Il existe aujourd'hui plusieurs possibilités de reconstruction prothétique, certaines nécessitant des «  colles », d'autres des «  crochets »…. Le bridge sur implants reste l'alternative préférée des praticiens et des patients notamment pour sa fiabilité, sa longévité, son confort au quotidien et le résultat naturel et éclatant.
Several Teeth replacement
Nowadays we can choose several prosthetic reconstructions, some of them needing « bonding », some others needing « claps »… Implant-supported bridge is the patients and practitioners favourite alternative, particularly because of its reliability, its lasting, its daily comfort and its natural and bright result.
Remplacement de toutes les dents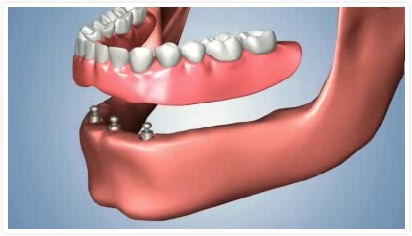 Lorsqu'il ne reste plus de dents, que ce soit au maxillaire ou à la mandibule, les implants demeurent la solution optimale. En effet, plusieurs possibilités s'offrent à vous : la pose d'un appareil mobile, fixé sur au moins deux implants, qui offrira une bonne stabilité et restera facile à retirer ou la pose d'un bridge complet définitif, fixé sur au moins huit implants.
All teeth replacement
When there's no more teeth, at the maxilla or at the mandible, implants represent the optimal solution. Indeed, you've several possibilities :
The placement of removable prosthesis, supported with two implants at least, that will offer you a good stability and will be easy to remove or the placement of final full bridge, supported on eight implants at least.
Clinique Dentaire Ghandi Casablanca